Christmas tree recycling scheme raises funds for charity
Wednesday 14th December 2022
Our Laudato Si' Centre is taking part in a Christmas tree recycling project that will help raise vital funds for St Ann's Hospice.
JustHelping is a UK charity that collects used Christmas trees from your door and recycles them to raise funds for local charities.
This year, our very own Laudato Si' Centre is joining the campaign as a collection point for trees from Manchester, Salford, Stockport, and Trafford areas, which will then be turned into chipping to be used at the centre.
The chipping is a hugely valuable resource to the centre, helping to support the healthy growth of fruit, herbs, vegetables and more by trying to reduce the competition from grass for soil nutrients, as well as the amount of digging and disturbance of soil.
By using chipping, alongside recycled cardboard, staff and volunteers at the centre can reduce grass grow-back, weed coverage, and weed maintenance, allowing plants to thrive and flourish.
This approach is also particularly helpful in controlling invasive species at the centre such as Himalayan Balsam, saving time, labour, and energy.
The scheme also has a wider environmental benefits, such as reducing traffic on the roads, reducing fly-tipping of Christmas trees, and reducing the amount of trees going to landfill.
In addition to the environmental aspect of the project, the initiative also has considerable social benefits by raising money for local charities.
In this case, 90% of the funds will be donated to St Ann's Hospice, with the remaining 10% being distributed to other local charities.
Dr Emma Gardner from the Laudato Si' Centre said: "This is a fantastic initiative, which we're so proud to be a part of.
"Our centre is founded on the principles of Laudato Si' – a call to put care for others and our common home at the heart of all we do, so a project that has both social and environment benefits is always a privilege to be part of."
To find out more about the initiative and how to register your tree for collection, click here.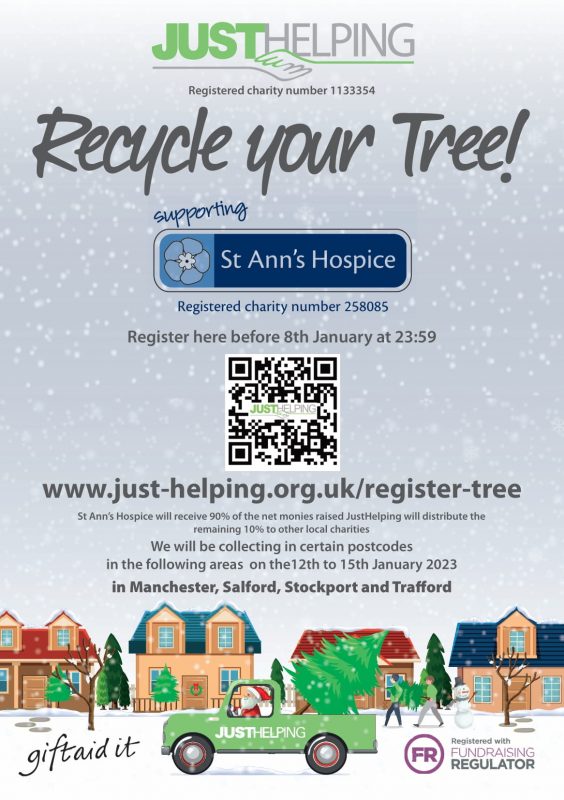 Tagged | Charity | Diocese | Environment | Laudato Si Centre