Funding Available! Diploma in Pastoral Ministry and Leadership
Monday 12th October 2020
Once again this year the Diocese, in partnership with the Archdiocese of Liverpool and Wrexham Diocese, are offering a Diploma in Pastoral Ministry and Leadership. The Diploma is a combination of Online Learning and a series of leadership workshops, leading to a Loyola University Chicago Certificate and a series of Liverpool Hope CPD Awards.
The course starts in January 2021 and ends in December 2023. The full Diploma costs £2500, which is payable over three instalments. An increasing number of parishes are willing to part-fund students towards the Diploma. Funding, up to a third of each year's fees, is available for a limited number of candidates with the support of their parish priest. 
More information can be found on the website below. Here you will find testimonies from past students, information booklets on the modules, application forms and an online form to book on one of the Zoom information Webinars www.liverpoolcatholicresources.com/diploma
The Zoom information Webinars are at the following dates and times:
Tuesday 27 October: 10. 30am – 12. 00pm
Thursday 29 October: 7. 00pm – 8. 30pm
Wednesday 4 November: 7. 00pm – 8. 30pm
Saturday 7 November: 2. 00pm – 3. 30pm
Tuesday 17 November: 7. 00pm – 8. 30pm
Please do not hesitate to contact Fr. Paul Daly paul.daly@dioceseofsalford.org.uk or John Griffin john.griffin@dioceseofsalford.org.uk for further information.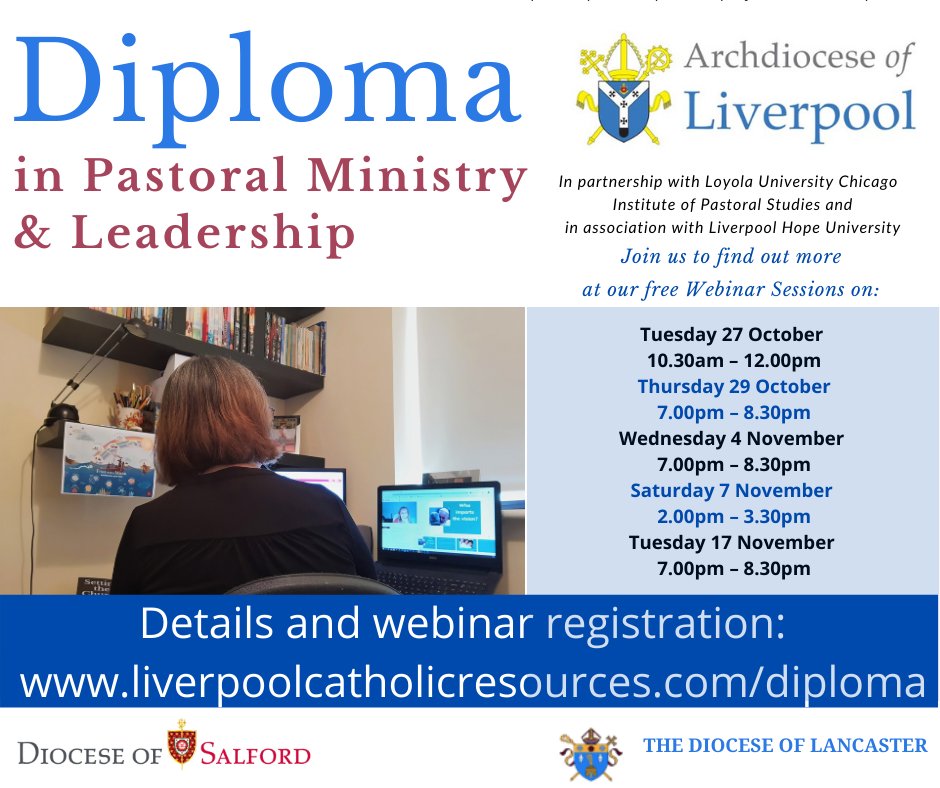 Tagged | Catholic Church